Find an Expert in Drinking Water & Public Health
---
Jason R. Barrett
Center for Government and Community Development
---
Email
jbarrett@ext.msstate.edu
Phone 662.325.1788
Website
http://www.gcd.msstate.edu
Description
One area of expertise is in training of public drinking water system board members and certified water operators. I have an expertise in financial management, asset management, and conservation efforts associated with drinking water systems. I have an expertise in private drinking water wells in relation to groundwater, well construction, equipment operations, maintenance, testing of well water, and understanding the results. I have an expertise in the historical formation of community water systems in Mississippi, their governmental forms, and their current status.
Cristiane Q. Surbeck
Civil Engineering
---
Email
csurbeck@olemiss.edu
Phone 662.915.5473
Website
http://engineering.olemiss.edu/~csurbeck//
Description
Microbiological, chemical, and physical water quality; stormwater runoff; stormwater management; soil and groundwater remediation; water resources sustainability; drinking water.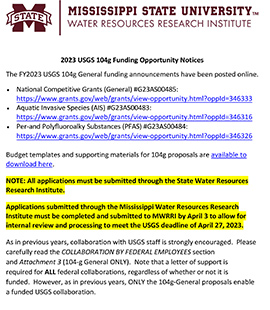 2023 USGS 104g Funding Opportunity Notices
Download
Tweets by @MS_WRRI
Tweets by MS_WRRI