Welcome
The Mississippi Water Resources Research Institute provides a statewide center of expertise in water and associated land-use and serves as a repository of knowledge for use in education, research, planning, and community service.
---
The WRRI goals are to serve public and private interests in the conservation, development, and use of water resources; to provide training opportunities in higher education whereby skilled professionals become available to serve government and private sector alike; to assist planning and regulatory bodies at the local, state, regional, and federal levels; to communicate research findings to potential users in a form that encourages quick comprehension and direct application to water related problems; to assist state agencies in the development and maintenance of a state water management plan; and to facilitate and stimulate planning and management that:
deals with water policy issues

supports state water agencies' mission with research on problems encountered and expected

provides water planning and management organizations with tools to increase efficiency and effectiveness of water planning and management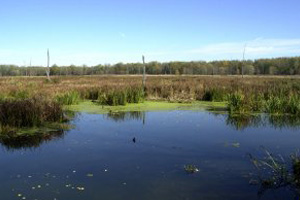 Natural Enhanced Transport of Agricultural Lead and Arsenic through Riparian Wetlands
Riparian wetlands are widely regarded as efficient scavengers of a broad range of contaminants. Confidence in the ability of riparian zones to buffer anthropogenic inputs has derived primarily from studies of active inflow and outflow of chemical-laden water and sediment entering and exiting riparian systems. While such studies document short-term scavenging of specific chemicals, they tell little about the permanence of sequestration. In Sky Lake, an oxbow lake-wetland in the Delta region of Mississippi, sediment cores representing 100 years of accumulation contain evidence that inorganic pesticides applied in the past were not permanently sequestered in the wetland surrounding the lake. Lead and arsenic are clearly present in open water sediments deposited approximately 75 years ago and are absent in the wetland sediments. The age of these sediments and elevated concentrations match historical records of lead and arsenate used for boll weevil control in surrounding cotton crops. The geomorphology, sediment distribution, and hydrology suggest that these contaminants could not have reached the lake without depositing a significant mass of contaminated sediment within the wetland. Secondary processes appear to have remobilized and flushed lead and arsenic from the wetland into the open water environment where deposition and burial resulted in permanent sequestration. Hampton Lake, an oxbow lake in the Delta, was selected based on satellite imagery and ground reconnaissance for sediment sampling. Several 3-m cores were collected. When no lead or arsenic spikes were observed, it was determined that deeper samples were needed. Five-m cores were collected, sectioned, and dried in preparation for digestion and analysis. Arsenic (As), cobalt (Co), copper (Cu), and nickel (Ni) were all found at the same depth though lead was not elevated within the same zone. Another set of samples below this zone are being reprocessed for analysis to replace those that were contaminated during sample preparation.
If you are interested in joining our ListServ, please send your name and email address to Keri Lewis at keri.lewis@msstate.edu.