Welcome
The Mississippi Water Resources Research Institute provides a statewide center of expertise in water and associated land-use and serves as a repository of knowledge for use in education, research, planning, and community service.
---
The WRRI goals are to serve public and private interests in the conservation, development, and use of water resources; to provide training opportunities in higher education whereby skilled professionals become available to serve government and private sector alike; to assist planning and regulatory bodies at the local, state, regional, and federal levels; to communicate research findings to potential users in a form that encourages quick comprehension and direct application to water related problems; to assist state agencies in the development and maintenance of a state water management plan; and to facilitate and stimulate planning and management that:
deals with water policy issues

supports state water agencies' mission with research on problems encountered and expected

provides water planning and management organizations with tools to increase efficiency and effectiveness of water planning and management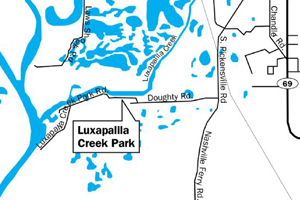 Geospatial Technologies as a Foundation to Organize a Bi-State Luxapallila Creek Watershed Alliance to Pursue Luxapallila Creek's Watershed Implementation Plan
The informal Luxapallila Creek Watershed Alliance was formed to bring local stakeholders together to refine, implement, and expand the Luxapallila Creek Watershed Implementation Plan created by the Tennessee-Tombigbee River Basin Team. The plan seeks to protect and restore water quality in the Luxapallila Creek Watershed. As part of this project, high resolution imagery was collected for most of the Luxapallila Creek Watershed and distributed to local and regional stakeholders participating in the Alliance. Geographic information systems (GIS) technologies were used to bring stakeholders together by encouraging them to share their data with other stakeholders for the purpose of addressing current water quality issues within the watershed and developing a water quality protection strategy for the future.
If you are interested in joining our ListServ, please send your name and email address to Keri Lewis at keri.lewis@msstate.edu.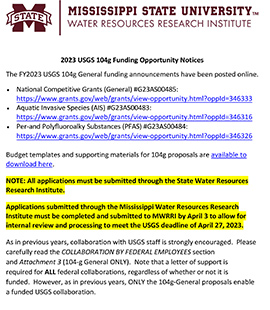 2023 USGS 104g Funding Opportunity Notices
Download
Tweets by MWRRI
Tweets by MS_WRRI