Welcome
The Mississippi Water Resources Research Institute provides a statewide center of expertise in water and associated land-use and serves as a repository of knowledge for use in education, research, planning, and community service.
---
The WRRI goals are to serve public and private interests in the conservation, development, and use of water resources; to provide training opportunities in higher education whereby skilled professionals become available to serve government and private sector alike; to assist planning and regulatory bodies at the local, state, regional, and federal levels; to communicate research findings to potential users in a form that encourages quick comprehension and direct application to water related problems; to assist state agencies in the development and maintenance of a state water management plan; and to facilitate and stimulate planning and management that:
deals with water policy issues

supports state water agencies' mission with research on problems encountered and expected

provides water planning and management organizations with tools to increase efficiency and effectiveness of water planning and management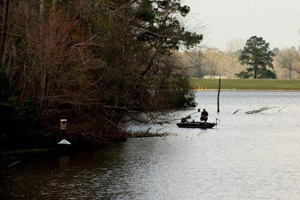 Smith County Lake Study
Working closely with the U.S. Forest Service and the Bienville Resources and Development Council (an interlocal agreement between Smith, Jasper, Rankin, and Simpson counties), this project is identifying and evaluating sites in Smith County that could be developed into a multi-purpose lake. As part of a master planning effort, the project is also evaluating facilities and amenities that could be directly or indirectly associated with the lake to make it a regional economic development hub for all counties participating in the council. Amenities that were evaluated included water-related structures such as docks and piers, marinas, and boat ramps; land-based facilities such as cabins, camping areas, and structures for recreational activities; residential areas; a conference center; a lodge(s); and complementary commercial establishments. Using a 2007 PricewaterhouseCoopers report, economic and fiscal impacts from residential activities at the lake were estimated to establish patterns of residential development expected near the proposed Smith County/Bienville National Forest Lake. Data from Lake Eddins was collected from the Jasper County Tax Assessor to estimate the distribution of home values and associated household incomes of residents that would populate the proposed site. PricewaterhouseCoopers estimates were combined with Lake Eddins property tax data to determine economic impacts attributed by new residents. These economic impacts were used to gauge the value of sales tax revenues generated by the project. Another component of the residential analysis involved calculating the property tax implications. In addition to presumed residential activities, estimates from recreational activities planned at the lake and associated facilities were also necessary. Again, the PricewaterhouseCoopers report was used to estimate the number of visitors to the site. Also surveyed were several recreational lakes in Mississippi to estimate typical spending patterns by recreational visitors. The combined visitor numbers and expenditure patterns were used to arrive at estimates of economic impacts of visitors on the region. Economic impacts were then used to extrapolate an estimate of the additional sales tax revenue expected from the project. From all studies, the scientists found that the proposed lake and associated residential and recreational activities, including business and infrastructure development will generate $183 million (2006 dollars) in future sales. A major source of the revenue would be generated from new residents and construction of the required infrastructure. These two activities would provide a very significant economic stimulus to the region. Part-time residents and recreational visitors will have a minor impact on the region. Approximately 209 full- and part-time jobs will be created by the lake's economic stimulus with the majority coming from spending by new residents. Jobs created by the construction of the lake and related infrastructure are considered temporary; however, the average of 58 full-and part-time jobs was skewed with approximately 385 full- and part-time jobs being created in year 1 of the project and about 30 full- and part-time jobs being supported by construction during year 20, the last year of the project.
If you are interested in joining our ListServ, please send your name and email address to Keri Lewis at keri.lewis@msstate.edu.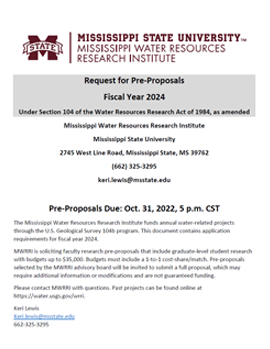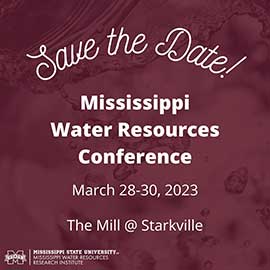 Tweets by MWRRI
Tweets by MS_WRRI