Welcome
The Mississippi Water Resources Research Institute provides a statewide center of expertise in water and associated land-use and serves as a repository of knowledge for use in education, research, planning, and community service.
---
The WRRI goals are to serve public and private interests in the conservation, development, and use of water resources; to provide training opportunities in higher education whereby skilled professionals become available to serve government and private sector alike; to assist planning and regulatory bodies at the local, state, regional, and federal levels; to communicate research findings to potential users in a form that encourages quick comprehension and direct application to water related problems; to assist state agencies in the development and maintenance of a state water management plan; and to facilitate and stimulate planning and management that:
deals with water policy issues

supports state water agencies' mission with research on problems encountered and expected

provides water planning and management organizations with tools to increase efficiency and effectiveness of water planning and management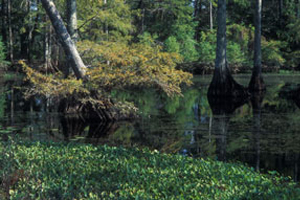 Climatological and Cultural Influences on Annual Groundwater Decline in the Mississippi Delta Shallow Alluvial Aquifer: Modeling Potential Solutions
This project seeks to determine the causes of short-term aquifer declines, cultural water uses and climatological processes, with a conscious effort to exclude the effects of river recharge or extraction. Maximizing use of rain to substitute for groundwater is definitely an alternative when water demand in dry years for agriculture becomes an even more serious issue. Water use from the delta aquifer has been quantified by crop, acreage, and irrigation method. A relationship between growing season rainfall and irrigation water use has been developed to link interannual variations in water use to variations in climate rainfall. A complete prototype water use model has been completed using acreages, irrigation methods, and management strategies in place during 2006 in Sunflower County to predict annual demand for cotton, rice, soybeans, corn, and catfish. Growing season climate data for the past 45 years were used to run the water demand model for a 45-year (2008-2053) period to assess aquifer drawdown and recharge characteristics annually and cumulatively over the long-term. Changes in acreages of the major crops, specific irrigation methods, and water management strategies were used to create various scenarios, then conduct multiple model runs to assess the effects of the instituted changes on aquifer drawdown and recharge characteristics over the long-term period.
If you are interested in joining our ListServ, please send your name and email address to Keri Lewis at keri.lewis@msstate.edu.