Welcome
The Mississippi Water Resources Research Institute provides a statewide center of expertise in water and associated land-use and serves as a repository of knowledge for use in education, research, planning, and community service.
---
The WRRI goals are to serve public and private interests in the conservation, development, and use of water resources; to provide training opportunities in higher education whereby skilled professionals become available to serve government and private sector alike; to assist planning and regulatory bodies at the local, state, regional, and federal levels; to communicate research findings to potential users in a form that encourages quick comprehension and direct application to water related problems; to assist state agencies in the development and maintenance of a state water management plan; and to facilitate and stimulate planning and management that:
deals with water policy issues

supports state water agencies' mission with research on problems encountered and expected

provides water planning and management organizations with tools to increase efficiency and effectiveness of water planning and management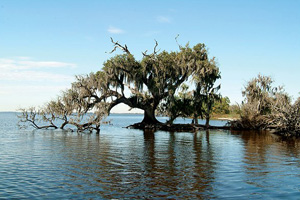 Multi-scale Evaluation and Analysis of Precipitation Patterns Over the Mississippi Delta
The Mississippi River floodplain in northwestern Mississippi, often referred to as the Mississippi Delta, is extremely important for regional economic stability and growth due to the widespread agriculture in the area. In terms of water resource management and climatological precipitation research, quantitatively defining the biases associated with available precipitation data is critical in choosing which water source to use for a given application. These precipitation patterns should be reevaluated in terms of duration, frequency, and extent. Including long-term data from surface gauges along with shorter-term but higher resolution radar-derived rainfall estimates allow for a detailed analysis of past and current precipitation trends. This knowledge will lead to a better understanding of rainfall trends and patterns and potentially better prediction of future rainfall. The results of conducted research can be directly used by water resource managers as well as local and regional agricultural consultants and departments to identify local areas that are more or less sensitive to rainfall during the summer growing season. Agricultural producers in the region as well as planners in the Yazoo Mississippi Water Management District and the Mississippi Department of Environmental Quality will benefit from the model for forecasting. Additional results offer winter patterns that can be identified to quantify recharge rates of groundwater systems.
If you are interested in joining our ListServ, please send your name and email address to Keri Lewis at keri.lewis@msstate.edu.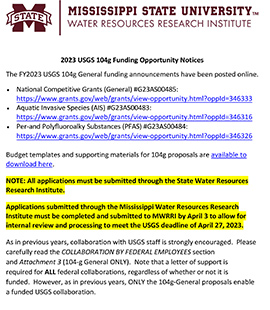 2023 USGS 104g Funding Opportunity Notices
Download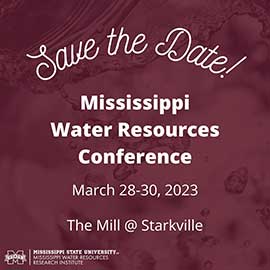 Tweets by MWRRI
Tweets by MS_WRRI