Welcome
The Mississippi Water Resources Research Institute provides a statewide center of expertise in water and associated land-use and serves as a repository of knowledge for use in education, research, planning, and community service.
---
The WRRI goals are to serve public and private interests in the conservation, development, and use of water resources; to provide training opportunities in higher education whereby skilled professionals become available to serve government and private sector alike; to assist planning and regulatory bodies at the local, state, regional, and federal levels; to communicate research findings to potential users in a form that encourages quick comprehension and direct application to water related problems; to assist state agencies in the development and maintenance of a state water management plan; and to facilitate and stimulate planning and management that:
deals with water policy issues

supports state water agencies' mission with research on problems encountered and expected

provides water planning and management organizations with tools to increase efficiency and effectiveness of water planning and management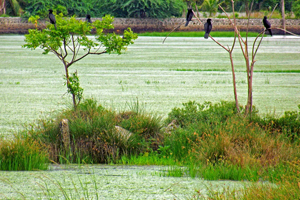 Developing a Reliable Method for Identifying Pre-Settlement Wetland Sediment Accumulation Rates: 14C Dating on Bulk Lake Sediments and Extracts
Carbon 14 is often used to date specific layers in lake sediments. However, problems in this type of dating can result in erroneous calculated ages. Four separate sedimentation regimes were identified while researching the history of Sky Lake, an oxbow lake in northwestern Mississippi. Scientists incorporated 14C activities from bulk sediment samples and collection of deeper cores from the open water region of the lake. This allowed scientists to completely map the history of sedimentation in the lake from the time it was abandoned as an active meander bend to the present. Items identified for analysis included: sand, deposition while still part of an actively flowing system, abandonment from the river system with a relative high sediment accumulation rate from seasonal flooding, migration of the river away from the lake with a subsequent drop in the rate of accumulation, and post land clearing with a 50-fold increase in the rate of sediment accumulation. Using time intervals prior to land clearing, 97 percent of the lake's history can be represented. This period lasted upwards of 3600 years during which time approximately 120 cm of sediment accumulated in the lake. In the last 100 to 120 years, since the land began to be cleared, an equivalent thickness of sediment has been added, doubling the total sediment thickness. Radioisotope data and recent observations of sediment accumulation over the past five years indicate that the 50-fold increase in sediment accumulation rate continues unabated.
If you are interested in joining our ListServ, please send your name and email address to Keri Lewis at keri.lewis@msstate.edu.