Welcome
The Mississippi Water Resources Research Institute provides a statewide center of expertise in water and associated land-use and serves as a repository of knowledge for use in education, research, planning, and community service.
---
The WRRI goals are to serve public and private interests in the conservation, development, and use of water resources; to provide training opportunities in higher education whereby skilled professionals become available to serve government and private sector alike; to assist planning and regulatory bodies at the local, state, regional, and federal levels; to communicate research findings to potential users in a form that encourages quick comprehension and direct application to water related problems; to assist state agencies in the development and maintenance of a state water management plan; and to facilitate and stimulate planning and management that:
deals with water policy issues

supports state water agencies' mission with research on problems encountered and expected

provides water planning and management organizations with tools to increase efficiency and effectiveness of water planning and management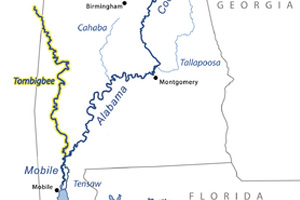 Linking Coastal Watersheds
A Pilot Project to Link Inland and Coastal Management in the Tenn-Tom to Mobile Bay Basin The overall goal is to facilitate more effective engagements between key inland and coastal management institutions in the Tennessee-Tombigbee - Mobile Bay Basin and to identify and integrate priority geospatial information. By creating a basis for sustained collaboration on data and decision making for the Tennessee-Tombigbee - Mobile Bay Basin, upstream and coastal communities would have a mutual benefit, Mobile Bay's estuarine research and protection needs would be highlighted, and the Tenn-Tom Waterway's purpose and role in regional economic development would be recognized. These effective engagements would serve as a model to apply in other inland-coastal basins in the northern Gulf coast and the Southeastern Atlantic regions
If you are interested in joining our ListServ, please send your name and email address to Keri Lewis at keri.lewis@msstate.edu.