Welcome
The Mississippi Water Resources Research Institute provides a statewide center of expertise in water and associated land-use and serves as a repository of knowledge for use in education, research, planning, and community service.
---
The WRRI goals are to serve public and private interests in the conservation, development, and use of water resources; to provide training opportunities in higher education whereby skilled professionals become available to serve government and private sector alike; to assist planning and regulatory bodies at the local, state, regional, and federal levels; to communicate research findings to potential users in a form that encourages quick comprehension and direct application to water related problems; to assist state agencies in the development and maintenance of a state water management plan; and to facilitate and stimulate planning and management that:
deals with water policy issues

supports state water agencies' mission with research on problems encountered and expected

provides water planning and management organizations with tools to increase efficiency and effectiveness of water planning and management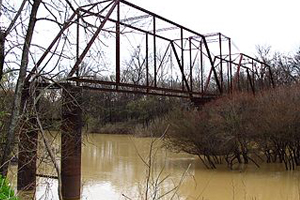 Assessing the Effectiveness of Streamflow Augmentation in the Sunflower River to Maintain Water Quality and Wetland Integrity
The Big Sunflower River is listed on Mississippi's Clean Water Act 303(d) as an impaired waterbody. Substantial decreases in the Sunflower River's late summer/early autumn base flows, as a result of agricultural withdrawals from the Mississippi River Valley Alluvial Aquifer, contribute to the river's impairment. The objective of this project is to provide a quantitative ecological evaluation of wetland and water quality impacts resulting from groundwater supplementation to a major stream in the Lower Mississippi Alluvial Stream. Scientists monitored water quality and vegetation data in a small set of target wetlands and stream reaches along a longitudinal gradient from just upstream of groundwater augmentation wells to just north of Indianola, MS. Overall findings suggest that there are modest improvements in the overall system associated with augmented stream flow. Water quality parameters generally remained in an acceptable range during periods of flow augmentation. There were also indications of improved riparian vegetation communities in reaches of the river which have received supplemental flow for years. The underlying problem of over pumping of groundwaters is not addressed by flow augmentation but does provide some value in remediating these withdrawals. This research has benefited the Yazoo-Mississippi Delta Joint Water Management District. The District is benefitting from the quantitative evaluation of the ecological effects of their water management efforts. The information is also providing guidance on how to best plan future activities. Results of this research increased the efficacy with which water district managers can plan and implement programs to augment surface water flows and storage within the Lower Mississippi Alluvial Valley.
If you are interested in joining our ListServ, please send your name and email address to Keri Lewis at keri.lewis@msstate.edu.