Welcome
The Mississippi Water Resources Research Institute provides a statewide center of expertise in water and associated land-use and serves as a repository of knowledge for use in education, research, planning, and community service.
---
The WRRI goals are to serve public and private interests in the conservation, development, and use of water resources; to provide training opportunities in higher education whereby skilled professionals become available to serve government and private sector alike; to assist planning and regulatory bodies at the local, state, regional, and federal levels; to communicate research findings to potential users in a form that encourages quick comprehension and direct application to water related problems; to assist state agencies in the development and maintenance of a state water management plan; and to facilitate and stimulate planning and management that:
deals with water policy issues

supports state water agencies' mission with research on problems encountered and expected

provides water planning and management organizations with tools to increase efficiency and effectiveness of water planning and management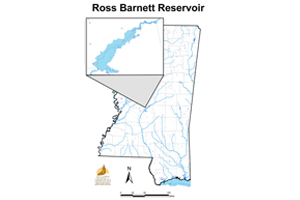 Aquatic Plant Management Support for the Pearl River Valley Water Supply District
This is an ongoing project conducted with MSU's GeoResources Institute to monitor and map the distribution of aquatic vegetation throughout the Ross Barnett Reservoir. At 33,000 acres, the reservoir is Mississippi's largest surface water impoundment and serves as the drinking water supply for Jackson, Mississippi. The Pearl River Valley Water Supply District (PRVWSD) manages the Ross Barnett Reservoir, its recreational amenities, and water and sewer services for approximately 50 surrounding subdivisions. In recent years, invasive species have become an increasing problem, clogging navigation channels, reducing recreational opportunities, and limiting access for users. The PRVWSD requested the Mississippi Water Resources Research Institute's assistance in assessing the distribution of aquatic vegetation, monitoring the spread of invasive species, and evaluating ongoing treatment efforts throughout the reservoir. During the first plant survey in 2005, 19 plant species were observed. Alligatorweed was the most frequently detected species in 2005, and the native plant American lotus was the most frequently detected species in both the 2006 and 2007 surveys. However, alligatorweed was the most frequently detected exotic invasive plant species in both 2006 and 2007. Due to lack of rainfall, water levels have decreased in 2006 and 2007, limiting access to shallow water areas and thus reducing the number of data points. Scientists may explore the use of remote sensing to examine areas that are currently inaccessible by boat and validate estimates of certain species such as alligatorweed. This project is continuing to monitor the aquatic plant distribution in the reservoir and assess any changes or spread of nuisance species populations, with particular focus on hydrilla, which was first detected in 2005. Management efforts by the PRVWSD are continuing to control nuisance species and promote the growth of more desirable native species.
If you are interested in joining our ListServ, please send your name and email address to Keri Lewis at keri.lewis@msstate.edu.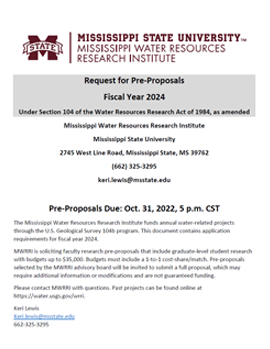 Tweets by MWRRI
Tweets by MS_WRRI