Welcome
The Mississippi Water Resources Research Institute provides a statewide center of expertise in water and associated land-use and serves as a repository of knowledge for use in education, research, planning, and community service.
---
The WRRI goals are to serve public and private interests in the conservation, development, and use of water resources; to provide training opportunities in higher education whereby skilled professionals become available to serve government and private sector alike; to assist planning and regulatory bodies at the local, state, regional, and federal levels; to communicate research findings to potential users in a form that encourages quick comprehension and direct application to water related problems; to assist state agencies in the development and maintenance of a state water management plan; and to facilitate and stimulate planning and management that:
deals with water policy issues

supports state water agencies' mission with research on problems encountered and expected

provides water planning and management organizations with tools to increase efficiency and effectiveness of water planning and management
EPA Social Indicators for Watershed Management
The primary purpose of this synthesis report is to summarize the past and current state of Social Indicator usage within the Mississippi River Basin and the Gulf of Mexico. We also identify key considerations for expanding and/or developing a suite of social indicators that could be used to inform stakeholders of the social dynamics of nutrient reduction. Read More
If you are interested in joining our ListServ, please send your name and email address to Keri Lewis at keri.lewis@msstate.edu.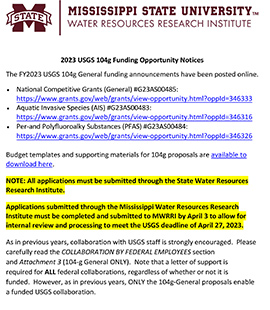 2023 USGS 104g Funding Opportunity Notices
Download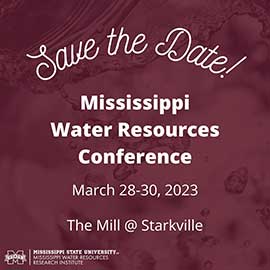 Tweets by MWRRI
Tweets by MS_WRRI